---
---
Dogfight is the fifth mission in the original Airforce Delta. It involves purely dogfighting against a squadron of ace pilots.
Briefing
You are ordered by Air Command to strike PFAF's aerial force at Zeta Base.
This is essential in procuring air control for our ground troops once they have successfully landed.
Your mission is to inflict maximum damage on the enemy air squadron.
Also, there are unconfirmed sightings of our former comrades at the Zeta Base.
Keep in mind that the top squadron of our - former - Dzavailar Foreign Air Corps was stationed at that base.
No possibility can be discounted; watch your back.
Walkthrough
A very simple mission. There are five targets (The five non-F-4E planes), and that's all. They're slightly more skilled and dangerous than normal AI planes, but they're still nothing too special. It's a big, wide-open arena, so go hog wild. The only dangerous enemies are the last two enemies; the Gripen and the Raptor. Both of them (The Raptor especially) are very high-tier planes, so be cautious. Aside from that, the others are planes you can have at this point in the game.
Gallery (Enemy/NPCs)
Video (Walkthrough/Soundtrack)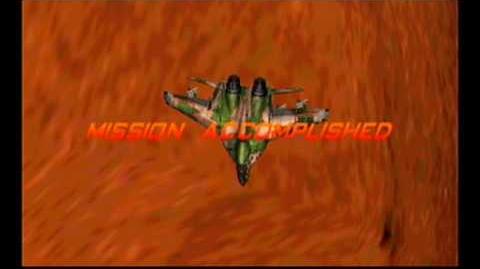 Trivia